"You're out of time!" Link▶️

This page contains information about a past event or game feature that may or may not return in a future version.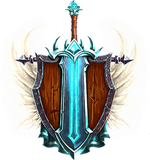 The Battle Pass was a rewards system in Paladins. This system was removed from the game on March 31st, 2021, and was replaced with the Event Pass.
The Battle Pass was introduced in Paladins OB70 and replaced the VIP Program. The system allowed players to earn

Battle Pass XP by playing matches. The

Battle Pass XP was needed to level up the Battle Pass Level. By leveling, the player would unlock rewards.
Battle Pass Membership
[
]
Players could purchase a paid track for each Battle Pass. With purchased Battle Pass, the player got more frequent and better rewards like Epic or Legendary skins, announcer packs, mounts, and much more. Battle Pass members unlocked a reward every level, and also unlocked the rewards from the free track. Furthermore, the player would receive special bonuses like avatars, sprays, titles, and the Battle Pass Boost.
Free Rewards
[
]
Players who did not purchase the Battle Pass were still able to collect free rewards such as 450

while leveling up. If the player decided to purchase the Battle Pass later, it would retroactively unlock all the rewards up to the players current Battle Pass Level.
Battle Passport
[
]
The Battle Passport was a quick purchase that unlocked the Battle Pass itself and 30 Battle Pass Levels. It costed 1500

Crystals, saving the player over 1000

Crystals versus buying the levels themselves.
Battle Pass XP

[

]
There were several ways to gain

Battle Pass XP:
Playing any matches rewarded Battle Pass XP. The quantity depended on the performance.
Completing Daily Quests. Each easy quest awarded 50,000 and each hard quest awarded 100,000 Battle Pass XP.
Completing Battle Pass challenges. Each completed challenge awarded 150,000 Battle Pass XP.
The

Battle Pass XP was boosted with Battle Pass Membership by up to +100%.
Challenges

[

]
The player could take on challenges in every Battle Pass. Each Battle Pass contained challenges, which would be unlocked immediately for all players after the Battle Pass had started. Each individual Challenge awarded 150,000

Battle Pass Experience.
In addition, Limited titles could be unlocked. The first title would be awarded to the player after completing half of the challenges and the second one after completing all challenges.
Exclusive Items
[
]
Most Battle Passes contained five exclusive items which could only be obtained through the Battle Pass.
List of Battle Passes
[
]
For Battle Passes released after January 6th, 2021, see Event Pass.
Season
Promo
Name
Release date
Cost
Battle Pass Bundle
Level Quantity
15
Eternal Pyre
January 6th, 2021
600
1500
120
14
Arcane Pacts
October 28th, 2020
600
1500
120
13
Radiant Stars
July 29th, 2020
600
1500
120
12
Darkness & Dragons
April 29th, 2020
600
1500
120
11
Sands of Myth
March 4th, 2020
600
1500
80
10
Community Battle Pass
January 8th, 2020
600
1500
80
9
Wild West
November 6th, 2019
600
1500
100 (Paid)
50 (Free)
8
Pirate's Treasure
September 11th, 2019
600
1500
100 (Paid)
50 (Free)
7
Shore Patrol
July 17th, 2019
600
1500
100 (Paid)
50 (Free)
6
Steel Forged
May 22nd, 2019
600
1500
100 (Paid)
50 (Free)
5
Battle Byte
March 27th, 2019
600
1500
100 (Paid)
50 (Free)
4
Battle Suit
January 16th, 2019
600
1500
100 (Paid)
50 (Free)
3
Remix
November 14th, 2018
600  •  Season Pass 2018
-
100 (Paid)
50 (Free)
2
Ninja
July 18th, 2018
600  •  Season Pass 2018
-
75
1
Gearhead
April 26th, 2018
500  •  Season Pass 2018
-
50