Callouts are names for different locations around the map. This helps the player's coordination.
In the Paladins 2.01 update all Siege Maps now have callouts, which are displayed above the Champion's portrait.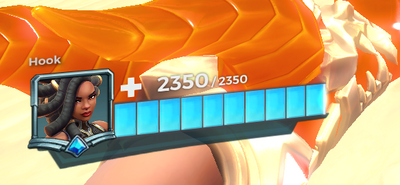 Callouts per Map
[
]
An overview of the different callouts for each map. In some parts of the map several layers are vertically above each other. At these points the callouts are displayed in the order from the lowest to the highest level.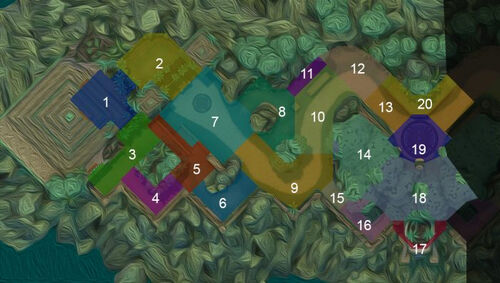 | | |
| --- | --- |
| 01. Front Spawn | 11. Worm Wall |
| 02. Courtyard | 12. Trap |
| 03. Side Spawn | 13. Capture Ramp (Cap Ramp) |
| 04. Back Rubble | 14. Jungle |
| 05. Front Rubble | 15. Rise |
| 06. Cliff | 16. Jungle Stairs |
| 07. Push Point | 17. Frog |
| 08. Jag | 18. Pillars |
| 09. Hook | 19. Capture Point (Cap Point) |
| 10. Worm | 20. Stage |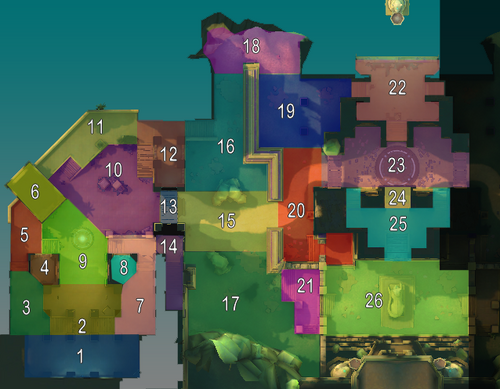 01. Front Spawn
11. Vista
21. Steps
02. Courtyard
12. Face
22. Sun Room
03. Long Dark
13. Bridge
23. Capture Point
04. Long Room
14. Secret
24. Cubby
05. Long Yard
15. Main
25. Moon Room
06. Access
16. Big Wall
26. Jaguar
07. Short Dark
17. Shade
08. Short Room
18. Danger
09. Payload Point
19. Two Pillars
10. Boxes
20. Choke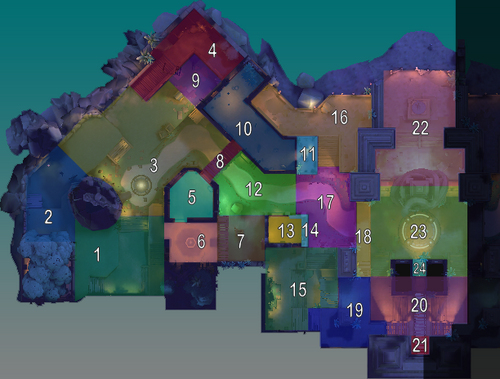 01. Cliff Spawn
11. Ledge
21. Cubby
02. Front Spawn
12. Midway
22. Sundial
03. Push Point
13. Hut
23. Capture Point
04. Four Corners
14. Rubble
24. Secret
05. Torch Room
15. Candles
06. Torch
16. Coast
07. Torch Drop
17. Lower Mid
08. High Bridge
18. Lower Bridge
09. Temple Exit
19. Plat
10. Temple Orange/ Temple Dark
20. Waterfall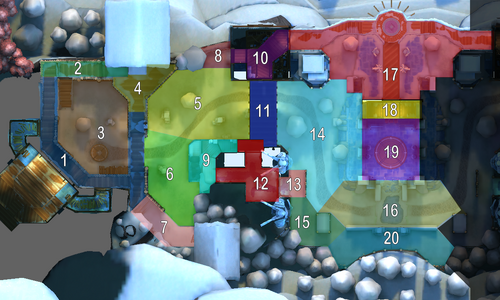 | | |
| --- | --- |
| 01. Catwalk | 11. Underpass |
| 02. Corner | 12. Cave |
| 03. Payload Point | 13. Cave Exit |
| 04. Hideout | 14. Main Front |
| 05. Yard | 15. Logs |
| 06. Gate | 16. Cap Exit |
| 07. Secret | 17. Statues |
| 08. Lodge Exit | 18. Stairs |
| 09. Porch | 19. Capture Point |
| 10. Lodge | 20. Beams |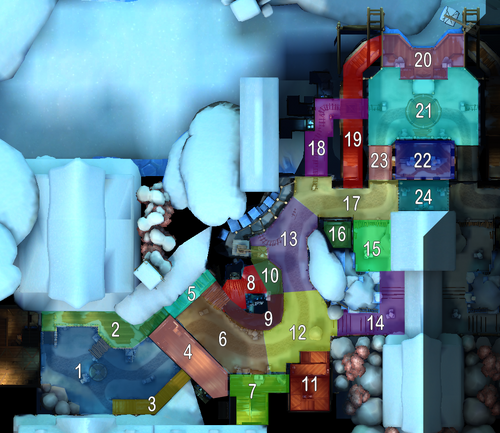 01. Payload Point
11. Lodge
21. Capture Point
02. Catwalk
12. Low Bend
22. Barn
03. Long Ramp
13. Downhill
23. Side Barn
04. Overpass
14. Short
24. Trap
05. Platform
15. Back Alley
06. Turn
16. Hut
07. Racks
17. Main Street
08. Cave
18. Tunnel
09. High Bend
19. Window
10. Blocks
20. Vista
01. Spawn
11. Alley
02. Vista
12. Main Street
03. Jungle
13. High Street
04. Front Porch
14. Under Bridge/ Bridge
05. Payload Point
15. Under Cat/ Catwalk
06. Blind Hill
16. Docks
07. Hill
17. Capture Point
08. Low Hill
18. High Market
09. Hot Corner
19. Market
10. Blind Street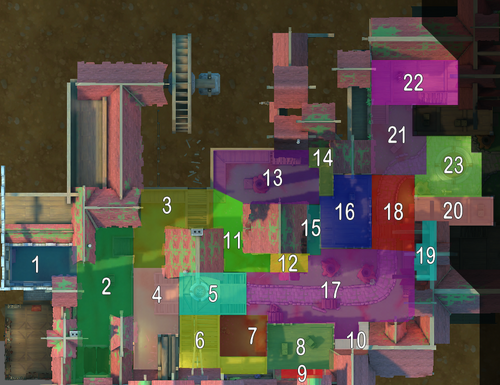 01. Side Spawn
11. Stage Alley
21. Quads
02. Courtyard
12. Stage
22. Warehouse
03. Wheel
13. Back Tree
23. Capture Point
04. Bottom Ramp
14. Back Ramps
05. Payload Point
15. Back Alley
06. Blades
16. Storage
07. Portal
16. Lookout
08. Low Shop
16. Storage Roof
08. High Shop
17. Long Street
08. Shop Roof
18. Short Street
09. Shop Stairs
19. Access
10. Shop Ramps
20. Window / Window Roof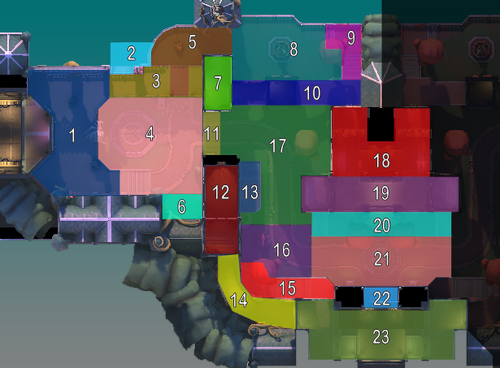 01. Spawn
11. Arch
21. Capture Point
02. Spawn Ramp
12. Fireplace
22. Balcony
03. Spawn Catwalk
13. Fireplace Platform
23. Gate Keep
04. Payload Point
14. Curve
05. Beanstalk
15. Curve Ramps
06. Cactus
16. Well
07. Access
17. Midway
08. Fountain
18. Organ
09. Fountain Ramps
19. Tapestry
10. Catwalk
20. Front Cathedral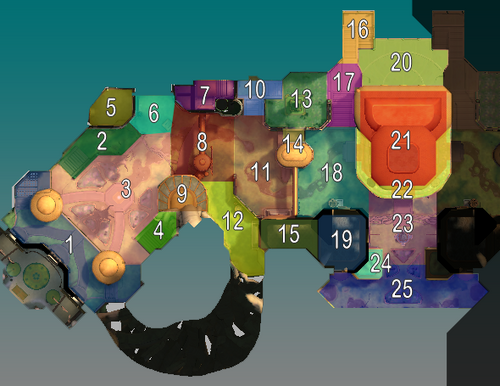 01. Spawn
11. Midway
21. Capture Point
02. Trench
12. Passage
22. Horseshoe
03. Payload Point
13. Garden
23. Fountain
04. Green Ramps
14. Mid Cut
24. Roof
05. Torch Room
15. Boiler
25. Back Alley
06. Tools Shop
16. Dock Ramps
07. Alchemy
17. Platform
08. Windmill
18. Main Front
09. Greenhouse
19. Study
10. Mid Ramps
20. Docks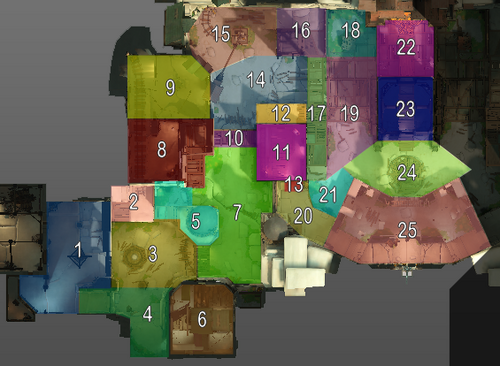 01. Spawn
11. Lower/ Upper Shed
21. C Drop
02. End Rail
12. Shed Ramp
22. Lava
03. Payload Point
13. Ledge
23. Low/ High Rig
04. Drillbit
14. Midway
24. Capture Point
05. Low/ High Ore
15. Blocks
25. Spinner / Terrace
06. Shaft
16. Low/ Upper Elevator
07. Long Street
17. Low/ High Platform
08. High Mines
18. Blacksmith
09. Low Mines
19. Big Wheel
10. Bridge
20. Curve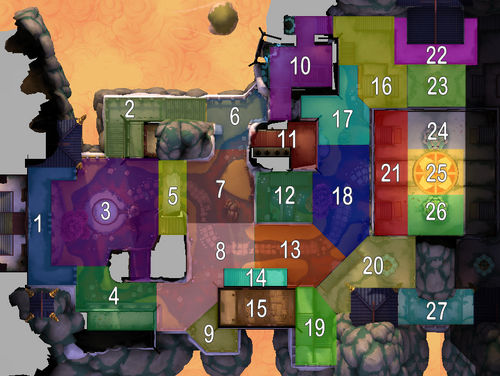 01. Low/ High Spawn
11. Bells
21. Front Shrine
02. Kabob
12. Terrace
22. Low/ High Astro
03. Payload Point
13. Midway
23. Well
04. Geisha House
14. House Ramp
24. Scorpion
05. Entrance
15. House
25. Capture Point
06. Back Cliff
16. Steps
26. Rabbit
07. Fork
17. Cone
27. Horseshoe
08. Top Mid
18. Courtyard
09. Vista
19. Double Ramp
10. Bath House
20. Fountain
01. Spawn
11. Crystal
02. Payload Point
12. Short
03. Passage
13. Long
04. High Ground
14. Cubby
05. Underpass
15. Half Moon
06. Back Mid
16. Trap
07. Mid Way
17. New Tower
08. Arches
18. Old Tower
09. Low Arches
19. Tunnel / Capture Point
10. Chamber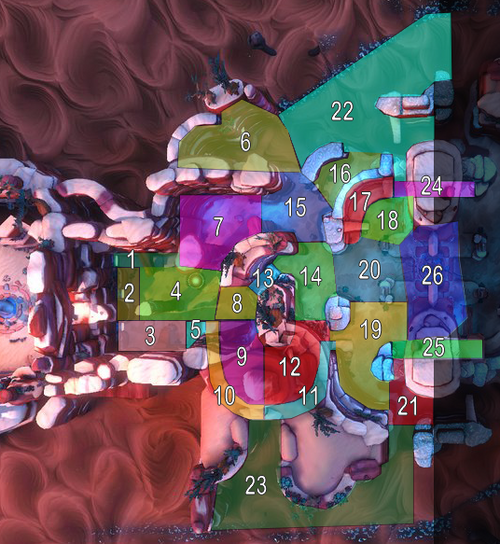 01. Plat Spawn
11. Solo
21. Danger
02. Front Spawn
12. Cave
22. Long
03. Side Spawn
13. Cut
23. Short
04. Payload Point
14. Mid
24. Light
05. Side Ramp
15. Cross
25. Dark
06. Ribs
16. Nook
26. Capture Point
07. Passage
17. Eyes
08. Turn
18. Small
09. Exit
19. Tall
10. Duo
20. Low Cap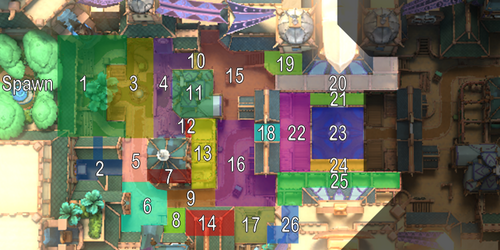 01. Pillars
11. Blue/Red
21. Roots
02. Drop
12. Mid Gate
22. Front
03. Payload Point
13. Stage
23. Capture Point
04. Stacks
14. Pots
24. Sewer
05. Trips
15. Alley
25. Sewer/Shrine
06. Turn
16. Bazaar
26. Pass
07. Shop
17. Eiffel
08. Red Door
18. Gate
09. Creep
19. Lookout
10. Side Gate
20. Roots/Planter