End Times is an event. This event began on February 13, 2019.
Overview
[
]
A large tear in reality has appeared among the ruins of the Shattered Desert, distorting the region in strange ways. Drawn to this anomaly, both the Resistance and Magistrate have sent their forces to claim its unknown power.
Join the fray as both factions battle in the all-new End Times game mode. Players will choose from a selection of either Paladins or Magistrate Champions, as well as several neutral characters; ownership of Champions will not matter for this mode. Do the best to maintain control of the strange tear, but be aware that its unstable nature distorts the world in a new way wherever it relocates.
Complete special limited time quests and purchase the new Omega Skins for
Chrono-Shards to unlock up to 27 rewards, including 2 New Epic Skins. Every 2 weeks new skins will be added, new champions will be available in End Times, and quest will rotate out giving the player even more
Chrono-Shards to earn.
Music
[
]
Lobby Sounds
[
]
Match and Others
[
]
Lore
[
]

The Magistrate have discovered that there is a strong power hidden in the Shattered Desert with which they can seal the victory over the Resistance. The Resistance of course want to prevent this and get unexpected amplification. The last Warder, Imani, answered the call of the beacon and wants to join the Resistance to fight against the Darkness. Furthermore they learn what this darkness is all about, when a creature from another time line warns them of the machinations of the Magistrates and joins them.
Limited Game Mode
[
]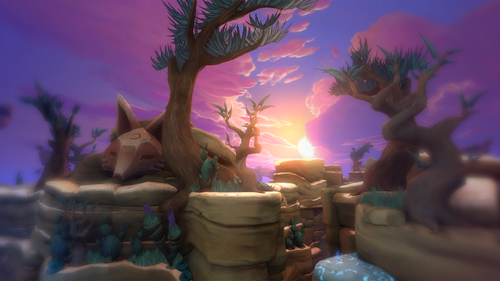 A tear in reality has appeared in the Shattered Desert distorting the region. Join the fray as both Resistance and Magistrate fight for this unknown power in the all new End Times mode. Do the best to keep control of the tear (capture point), but be aware it is unstable and constantly moving - distorting the world in a new way whenever it relocates. Every two weeks, new Champions will be playable in this mode.
Game Rules
[
]
End Times is a special Onslaught version on the map Shattered Desert. The first team to reach 400 tickets, or the team with the most tickets after 12 minutes, wins.
Player spawns are random like in Team Deathmatch
Killing a player scores the team 5 tickets.
Controlling the Capture Point earns 1 ticket per second. This area is controlled as long as there is one player and no opponents within it.
The Capture Point (tear) relocates every minute to a different spot on the map.
Every time the capture point relocates, both teams receive a random effect:
Warp: Gain a movement speed buff
Quick Cast: Ability Cooldowns reduced
Anti-Gravity: Gravity reduced
Ultimate-Engine: Ultimate Ability charge rate increased
Cosmetic items
[
]
Unlocks
[
]
These are the items that are available during the event. Each bundle costs 400

Crystals to unlock. All Omega Skin purchased during End Times come with 40
Chrono-Shards.
Every two weeks new skins will be added, giving the player the chance to earn more
Chrono-Shards.
Collection bonus
[
]
Earn 120
Chrono-Shards to unlock Omega Makoa!

Earn 240
Chrono-Shards to unlock Omega Imani!
Event Unlocks
[
]
Complete limited-time quests or purchase the new Omega skins to earn
Chrono-Shards. Collect these Shards to unlock over 20 new cosmetic rewards in End Times, including two Epic skins.
Quests
[
]
Every two weeks, players will be tasked with three limited-time quests that reward
Chrono-Shards. In total 100
Chrono-Shards can be earned.
Available 2.02 Patch Release

Available on February 27th, 2019, 1:00am EDST

Available on March 27th, 2019, 1:00am EDST

Available on April 10th, 2019, 1:00am EDST
Videos
[
]
Events
Evie's Year-End Yuletide  • 
Time Warp  • 

Street Style  • 

End Times  • 

Merry Mayhem  • 

Dark Tides  • 

Dragon's Call  • 

Rise of Furia  • 
Siege of Ascension Peak