"You're out of time!" Link▶️

This page contains information about a past event or game feature that may or may not return in a future version.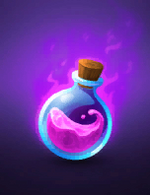 Essence was a currency in Paladins. Essence was used to craft Cards. This currency was removed from the game on December 18, 2017 after a major card system rework.
Information
[
]
Essence was automatically obtained in exchange of duplicated cards from Radiant Chests, and could be earned by completing Quests and earning Awards. Players could also receive essence through the Daily Login Reward, where the 4th, 5th and 6th bonuses granted essence while the previous 3 days awarded

Gold.
Completing the Basic Tutorial would award 36,000

. Purchasing the Founder's Pack granted 72,000

.
Currencies

Credits  • 

Crystals  • 

Gold  • 

Bounty Coins
Defunct


Essence  • 

Viewer Points  • 

VIP Points