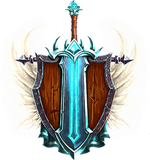 The Event Pass is a rewards system in Paladins. It was introduced on March 31st, 2021 and replaces the Battle Pass. A new Event Pass will launch every 2 months instead of the previous 3 month Battle Pass cycle and will include 2 new skins with 2 alternate recolors. The Event Pass system aims to improve player feedback regarding the Battle Pass system, including reducing the grind, making level-ups feel meaningful, and reworking challenges. As with the Battle Pass, players can level up their Event Pass by earning

XP via playing matches. Event Passes will only take 28 Million

XP to reach max level rather than the 60 Million

in the Battle Passes.[1]
Levels
[
]
Event Passes contain 24 levels while Crossover Passes contain 30 levels. Each level will have an impactful unlock including Death Stamps, Sprays, Avatars, MVP Poses, or Emotes.
Free Rewards
[
]
Players who do not purchase the premium track are still able to receive a number of free rewards on the track, most notably being one of the new skins, as well as the rewards from Trials of the Realm. If the player decided to purchase the Event Pass later, it would retroactively unlock all the Paid Rewards up to the players current Event Pass Level.
Paid Rewards
[
]
Event Passes are priced at 400

Crystals, other than Crossover Passes which are priced for 750

Crystals. The player can unlock the Paid Rewards on the 24 or 30 level track. The Paid Rewards starts with +50% boosted

Event Pass XP and +50% boosted

Gold earned. The Paid Rewards contains a total of 50

.
Buy All
[
]
The Buy All option is more expensive, but instantly unlocks every free and paid reward on the 24 or 30 level track. Players can buy all content of an Event Pass for 1500

Crystals.
Buy Single Levels
[
]
After purchasing the Event Pass, it is also possible to purchase single levels. Each level costs 70

Crystals.
Players can buy multiple levels by clicking on the desired level in the Event Pass.
Trials of the Realm
[
]
Trials of the Realm is a new system replacing Battle Pass challenges. These challenges are now tied to 8 regions corresponding to a location on the Paladins World Map, with only 1 region being available when a new Event Pass launches, while more are added weekly, every Wednesday at 12:00 PM (noon) UTC. A timer on the World Map and Region List will show how long before the next region is unlocked. Completing these challenges unlocks various rewards, such as 350

Crystals,

Gold, Event Pass Levels, Avatars, Sprays, MVP poses, emotes, and more. Anyone, including players who have not purchased the Event Pass, can complete these challenges and obtain their rewards. Trials of the Realm can be accessed from a menu option on the Paladins home in-game page.

Trials of the Realm locations are unlocked with tickets displayed at the bottom of any region. To start progressing the trials, the player have to choose any of the three locations inside a region and select the unlock option. Each patch the player will start with two tickets, and completing a set of challenges grants the player both the reward for that location and a new ticket.


List of Event Passes
[
]
Videos
[
]
Trials of the Realm
[
]