Frozen Guard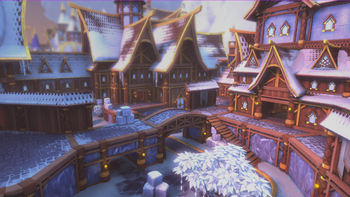 Frozen Guard is one of the maps in Paladins and was released in the Paladins CB31 update.
Like every Siege Map, Frozen Guard also has certain callouts.
This map has mirrored layouts and is designed for 2 teams of 5 players. There is a Capture Point in the middle. The bases are located at opposite ends of the map.
The only Game Mode that is currently playable in this map is Siege.
Frozen Guard is seemingly present in the Aico Tundra, implying it is owned by House Aico.
During the Arcane Pacts Battle Pass in the 3.05 update, Frozen Guard received a visual rework.
"
Frozen Guard was given a complete visual overhaul to improve the visual quality and readability of the map. The layout of the map remains the same, but the architecture and natural elements were reworked to give a better sense of purpose and scale.
The spawn room was opened up to give the player the sense that they are part of a much larger world from the very start as they enter the map. No longer does the player spawn in a small dark room, but in a semi-open space that inspires wonder.
The Guardian statues that are the map's namesake that flank the Capture Point building are one of the few points of interest remaining from the original version of Frozen Guard. But instead of blending in with the surrounding landscape, the statues are built on to the buildings in a more deliberate way to catch the player's eye as they round the cart path leading out from the Capture Point.
A new vista was created. Instead of an ice quarry, Frozen Guard now sits high up on a mountainside overlooking the fjords, with other towns and buildings visible off in the distance.
In the new Frozen Guard there is much more for the player to explore!