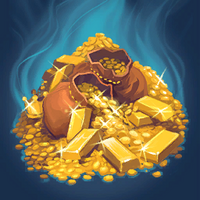 Gold is a type of currency in Paladins. Gold can be used to unlock Champions and to purchase certain Cosmetic Items. Gold can be boosted by active Party Boost and purchased Event Pass.
Information
[
]
Gold is mainly earned by playing matches, completing Quests, and increasing account level; with each level granting 2,500

. Players receive 300

for the first two matches of each game mode played per day, including training and Ranked. Players can also receive gold as rewards from Trials of the Realm and Event Passes. Players who unlock Paid Rewards gain +50% boosted

Gold earned.
Gold can also be earned from the Refer-A-Friend system or watching in-game advertisements to earn 100

Gold.
Currencies

Credits  • 

Crystals  • 

Gold  • 

Bounty Coins
Defunct


Essence  • 

Viewer Points  • 

VIP Points