Paladins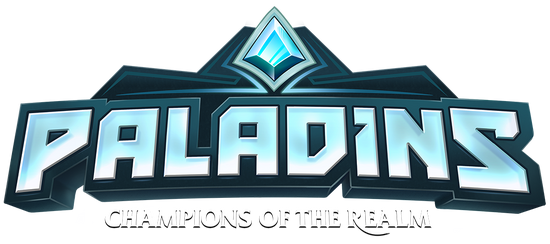 Paladins: Champions of the Realm

Developer:
Evil Mojo Games
Publisher:
Hi-Rez Studios
Release:






November 17th, 2015
(Closed Beta)
September 28th, 2016
(Open Beta)
May 8th, 2018
(Full Launch)
Platforms:




Microsoft Windows
Xbox
PlayStation
Nintendo Switch
Engine:
Unreal Engine 3
Genres:
First-Person-Shooter
Topic:
Hero Shooter
Setting:
Fantasy
Mode:
Multiplayer
Controlls:
Keyboard + Mouse / Gamepad / Controllers
Languages:
Multiple Languages
Age Rating:
Credits:
Game Credits

Paladins Champions of the Realm is a free-to-play, online-multiplayer, class-based first person shooter video game developed by Evil Mojo Games (development studio under the Hi-Rez Studios publishing group) and launched out of beta on May 8th, 2018 with the version 0.70.2610.3 and later with the major A New(er) Frontier - 1.0b Update.
The game is rooted in a colorful fantasy setting featuring Champions, playable characters that have their own unique fire-function and skills. Combat in each game mode is also nearly entirely skillshot-based, meaning projectiles can be dodged. Although each champion has their own personality and abilities, to get around Paladins' maps, the real character variation comes from the Cards and Item Systems that augment a champion in different ways.
Closed beta phase began on November 17, 2015. The game officially went into open beta on September 16th, 2016. An Xbox One and PlayStation 4 versions of the game entered their closed beta phases on March 14th, 2017. Both of these ports went into open beta on May 3, 2017. Paladins launched out of beta on all platforms on May 8th, 2018. After that, Paladins was released on June 12, 2018 for Nintendo Switch, as well as for the PlayStation 5 on November 12th, 2020 via backwards compatibility.
"
Welcome to Paladins, the free-to-play fantasy team-based shooter sensation! Join over 30 million players to become a legendary Champion of the Realm, customizing your core set of abilities to play exactly how you want to play.

Knife-wielding assassins, Abyssal demons, and time-travelling soldiers - Paladins features over 40 playable Champions across 4 unique roles.
Ancient Goddess. Interstellar bounty hunter. Cutthroat pirate. Frost giant. You can be all of these and more in Paladins. Choose from hundreds of skins already available in Paladins or find a new favorite in each update.

No matter what your playstyle is, you'll find it in Paladins. With Paladins' deckbuilding system, you can become an iron sights sniper, a grenade-slinging explosives expert, or a track star with an assault rifle – all as the same Champion. Choose from dozens of cards to customize your abilities and make each Champion your own.

The PC version of Paladins can be downloaded through Steam, Discord and Epic Games. The console versions can be acquired for free through their respective online stores: Microsoft Store and PlayStation Store. The game is now also available on the Nintendo Switch: Nintendo eShop

Cross-play and cross-progression were implemented with the release of the 2.2 update allowing players from PC, Xbox, and Nintendo Switch to play together. With the release of the 2.7 update PS4 players could also join the fight with Cross-play. For more information about this implementation, you can access the FAQ page here.
MINIMUM:
OS: Windows 7 64-bit or newer
Processor: Core 2 Duo 2.4 GHz or Athlon X2 2.7 GHz
Memory: 4 GB RAM
Graphics: Nvidia GeForce 8800 GT
Storage: 30 GB available space
Sound Card: DirectX compatible sound card

RECOMMENDED:
OS: Windows 8/10 64-bit (latest Service Pack)
Processor: Intel Core i5-750, 2.67 GHz / AMD Phenom II X4 965, 3.4 GHz
Memory: 6 GB RAM
Graphics: Nvidia GeForce GTX 660 or ATI Radeon HD 7950
Network: Broadband Internet connection
Storage: 30 GB available space
Sound Card: DirectX compatible sound card