"You're out of time!" Link▶️

This page contains information about a past event or game feature that may or may not return in a future version.

Pirate's Treasure was a Battle Pass that started on September 11th, 2019 with the Paladins Version 2.7 update. The highlights were the new Epic skins for Io, Ruckus, Maeve, and Ying.
Music
[
]
Description
[
]
Receive instant rewards for purchasing, and unlock over 100 more goodies just by playing and leveling up your Battle Pass. All players start earning Pirate's Treasure experience as soon as Pirate's Treasure is released, leveling up from 1 to 50. Battle Pass purchasers unlock premium rewards every level, along with the free track rewards, and gain exclusive access to Battle Pass Plus!
The Pirate's Treasure Battle Pass costs 600 Crystals, and rewards you just for playing. You can unlock up to 150 Crystals through the Battle Pass, reducing the cost to 450 Crystals. Level up with faster by completing challenges, and unlock up to 8 Epic Champions skins!
Dive into this awesome Battle Pass with the Battle Passport, a quick purchase that not only unlocks the new Battle Pass itself but the next 30 Battle Pass Levels! You can start playing with the Pirate Io, Pirate Ruckus, and Pirate Maeve skins right away!
The Battle Passport costs 1500 Crystals, saving you over 1000 Crystals!
In addition, there are many other items to unlock, such as the currencies (205,000x

- 150x

), the chests (

-

-

), a Loading Frame, a Death Stamp, an Announcer Pack, Sprays, Avatars, Titles, Team Skin Boosters and Team Boosters.
The eighth Battle Pass can be completed a second time with the Battle Pass Plus track, which gives the player some extra items. This track is unlocked with purchased Battle Pass.
Track Overview
[
]
Paid Track
[
]
The paid track starts with +50% boosted

Battle Pass XP. After reaching level 47 the

Battle Pass XP is boosted to +75%.
The paid track contains a total of 70,000

and 50

.
Pirate's Treasure
Ruckus Skin
Dead Man's Chest
Death Stamp
Pirate's Treasure
Maeve Skin
Free Track
[
]
The free track contains a total of 45,000

.
Tier 1 Challenge
Challenge
Tier 2 Challenge
Challenge
Tier 3 Challenge
Challenge
smells like Shark-bait
Title
Tier 4 Challenge
Challenge
Tier 5 Challenge
Challenge
Challenges
[
]
Ultimate Reward: Exclusive Title "the Captain" - unlocked after completing all Tiers up to Tier 5
Battle Pass Plus
[
]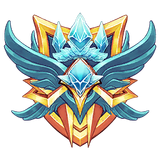 This track become available after completing the Battle Pass the first time. Players who own and complete the Battle Pass will automatically start gaining experience in the Battle Pass Plus Track. Battle Pass Plus is only available for Battle Pass Purchasers. Players who have purchased the Battle Pass will automatically begin progressing through Battle Pass Plus after reaching the max level of 50. The Battle Pass Plus Rewards track features the same total experience as the original level 1-50. Completing all 5 Tiers of Plus Challenges unlocks the Limited Title "Ruler of the Seas".
new Challenges
experience boosters
Crystals
an Avatar

Limited

Eight Oceans and Siren Recolors
Plus Track Overview (Paid)
[
]
The Battle Pass Plus contains a total of 90,000

and 100

.
Tier 1 Challenge
Challenge
Tier 2 Challenge
Challenge
Tier 3 Challenge
Challenge
Tier 4 Challenge
Challenge
Tier 5 Challenge
Challenge
Plus Track Challenges
[
]
Ultimate Reward: Limited Title "Ruler of the Seas" - unlocked after completing all Battle Pass Plus Tiers