"You're out of time!" Link▶️

This page contains information about a past event or game feature that may or may not return in a future version.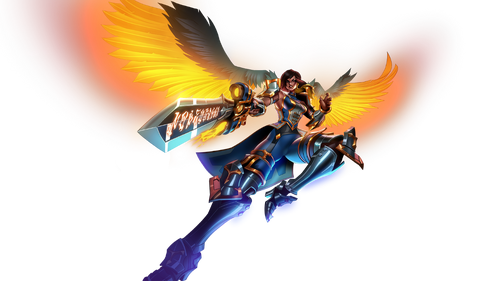 Rise of Furia is an event to celebrate the release of a new champion, Furia, and to expand Paladins' lore. This event began on June 6, 2018.
Additional information can be found here: Rise of Furia promo site
Description
[
]
Escape the Abyss
Relive the day Seris was destroyed, when thousands of souls were cast into the Abyss. You have been trapped in the vile recesses of this ancient hell... but there is still hope. Race against your doom and climb the Abyssal Spire. As you slay the wretched shadows atop you'll earn Abyssal Shards which you can exchange for exclusive Rise of Furia event items. Remember child: Even in the blackest night the Pyre will light your path
Lore
[
]
Limited Game Mode
[
]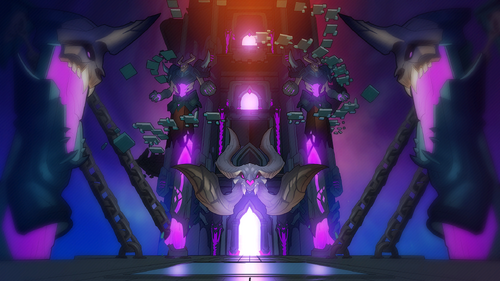 The Abyss hungers. Race to the top of the demonic spire, avoiding rockets fired by an abyssal lord. Then prepare for a winner-take-all Team Deathmatch to escape eternal torment.
Players are assigned a random Champion to race up the spire.
Both teams are comprised of the same Champions.
Players have increased movement speed and jump height to help them traverse the Abyssal Spire.
Players are unable to damage or impede their opponents' progress during the climb.
The Abyss will slowly rise during the Climb, forcing players towards the top. Falling into the Abyss will reset you to the lowest current checkpoint.
Pyre's Blessing are placed throughout the climb, providing 7% ultimate charge to the team who can grab them first![1]
Destroying the Crystal near the top will unlock the Abyssal Spire's Arena, bringing all players to the top of the Spire. The team that unlocks the Arena earns additional ultimate charge.
The fight follows Team Deathmatch Rules – first team to 30 kills wins the match.
Cosmetic items
[
]
These are the items that are available during the event. Each bundle costs 400

Crystals to unlock.
Unlocks
[
]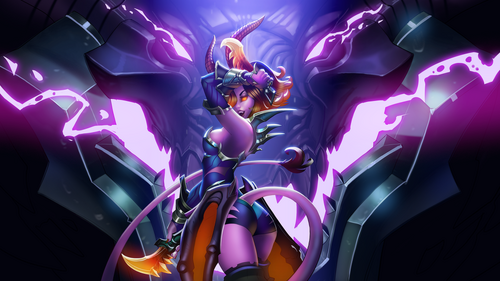 Demonette Maeve (Epic Skin)
Crossed (Exclusive Maeve MVP Pose)
200 (Event Store Currency)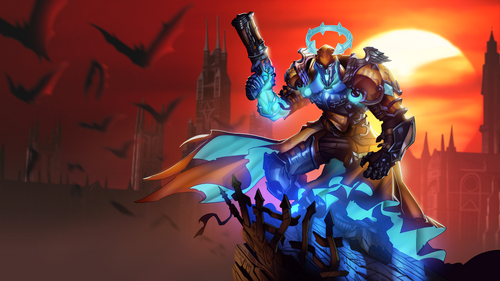 Fallen Androxus (Epic Skin)
Executioner (Exclusive Androxus MVP Pose)
200 (Event Store Currency)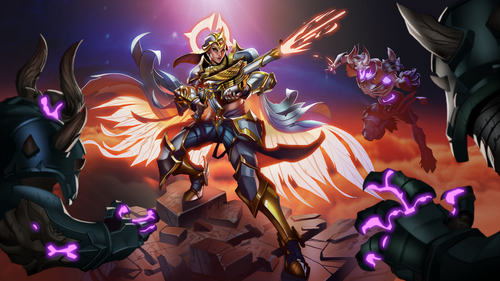 Archangel Tyra (Epic Skin)
Reckoning (Exclusive Tyra MVP Pose)
200 (Event Store Currency)
Collection bonus
[
]
Abyssal Lord Drogoz (Limited Skin)
Dominator (Limited Drogoz MVP Pose)
Effigy (Limited Death Stamp)
The Demon (Limited Title)
1000 (Event Store Currency)
Event Store
[
]
Spend your

Abyssal Shards at the Event Store to get legendary and epic exclusive items. You will be able to spend your Abyssal Shards after purchasing one of the bundles.
) - 100

) - 100

) - 100

) - 100

Death Stare (Epic Animated Spray
) - 100

Corrupter (Legendary Animated Avatar
) - 100

) - 1000

Quests
[
]
Complete quests to earn treasure chests as bonus rewards. Progress can be made for all quests at the same time.
Call of the Abyss
Objective: Acquire 100 Abyssal Shards

---

Reward: Gold Chest
Pyre's Chosen
Objective: Acquire 200 Abyssal Shards

---

Reward: Diamond Chest
Videos
[
]
Events
Evie's Year-End Yuletide  • 
Time Warp  • 

Street Style  • 

End Times  • 

Merry Mayhem  • 

Dark Tides  • 

Dragon's Call  • 

Rise of Furia  • 
Siege of Ascension Peak