Snowfall Junction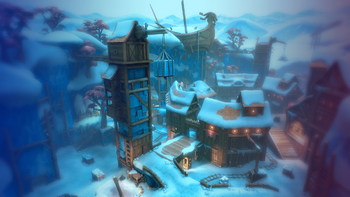 Snowfall Junction is one of the maps in Paladins and was released in the Paladins OB44 update.
This map has a mirrored layout and is designed for 2 teams of 5 players. The bases are located at opposite ends of the map.
This map was designed for the Game Mode called Survival but the modes that are currently playable in this map are Team Deathmatch and King of the Hill.
Snowfall Junction is seemingly present in the Aico Tundra, implying it is owned by House Aico.